Kung Fu Saturdays: Dirty Ho
You must be saying to yourself right about now, "Oh, snap! Old School Scholar is posting porn videos instead of kung fu flicks! Ain't no martial arts movies with dirty hoes in it! You guys are selling out!"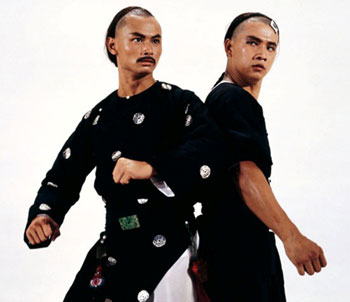 On the contrary. For one, Old School Scholar does not support pornography because that is not the content we condone, and two have you ever watched Dolemite movies? Moving right along…
Gordon Liu returns with another of one of his great film masterworks for Shaw Brothers called Dirty Ho. It is quite an amusing story where Gordon Liu, the 11th Manchurian Prince, is a masterful fighter who does not want to reveal his abilities and identity while being threatened with assassination. He deflects confrontation with inadvertent maneuvers to make his opponent feel clumsy.
Dirty Ho, played by Wong Yue, is a jewel thief who later befriends the Prince becoming his disciple and bodyguard. Together they must rely on each other to withstand future attacks until the identity of the assassin is revealed.
This is not your typical revenge movie that is common in kung fu movies. This is a movie about corruption in the Manchurian government regarding heirs to the throne. Obviously somebody wants to be the next big dog real bad and fortunately the 11th Prince has Ho at his side.

You can never go wrong with a Gordon Liu film which is why this is the kung fu movie of the week!
Enjoy!
Please install the Veoh Player to enjoy this feature length presentation in your browser.

Watch Dirty Ho (1979) in Action & Adventure |  View More Free Videos Online at Veoh.com