Kung Fu Saturdays: The Chinatown Kid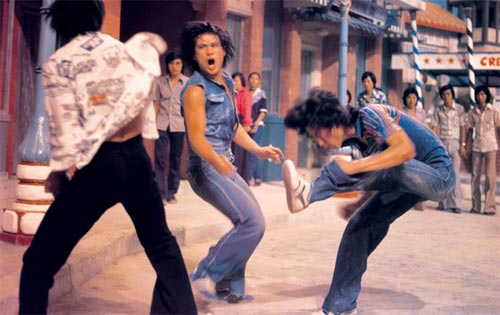 For the past few months of Kung Fu Saturdays, I have been posting movies based in the feudal era of China during imperial rule.  Well, this week we are going to give you a classic Venom Mob flick which takes place during the modern times in 1970s. The following movie is one of their earliest produced films, if not their first, known as The Chinatown Kid (aka Chinatown Lost.)
This movie is based on a young fighter (played by the short lived Alexander Fu Sheng) who leaves the streets of Hong Kong for San Francisco to escape gang violence. Unfortunately, when he arrives in the Chinatown District he stumbles into more gangland violence between two rivaling groups. Fu Sheng's character is later recruited for his fighting prowess, and he grows into a powerful, revered gang member who must later face his conscience when his good friend becomes a junkie.
This is a good old fashion, 1970s  kung fu movie but with bell-bottoms, thick framed eye-glasses, and funky bass guitars. I had to laugh at times because there is stock footage of San Francisco, but people are driving their cars on the left lane with their steering column on the right. Having been to San Francisco, Chinatown was not as big as seen in this movie. Not trying to rain on anyone's parade because this movie is very enjoyable. It is sad Alexander Fu Sheng's life was cut short from a car accident. He would have been another star we all would have grown to love.
Anyways, Enjoy the movie!
The Chinatown Kid
Please allow this video to play in 9 consecutive parts.