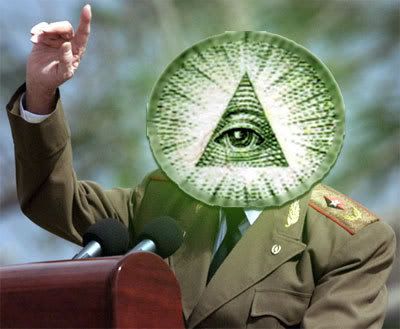 I have this question that I wish to ask everybody. The question is simply this, "does money measure the depth of your love and respect for the Hip Hop culture?" Now, if your answer is a quick "Hell No," stop to think about this first. You see the BCM (Bloodsucking Corporate Machine) is forever proud to let us know that everybody has a price. Now, allow me to repeat the question again, "does money measure the depth of your love and respect for the Hip Hop culture?"
Let me give you a few relative scenarios to explain what I'm talking about. Let's say you're a Graff Writer and an employee of a BCM approaches you saying, "Wow, Man! You're very talented! I'm a publisher, and if you sign with us we can make you rich and famous!'
What if you're an emcee, rap artist, or rapper, and you've just rocked a local crowd at a party. An employee from a BCM steps to you and says "Yo, Man! I love the way you rap! I'm a producer, and if you sign with us we can make you rich and famous!"
How about if you're a part of a B-Boy crew, and your crew just won a battle or tournament. An employee of a BCM comes up to you, and says, "Man, you guys are hot! I'm a director, and I'm filming a commercial. If you guys sign with us I could get you guys in it! We can make you rich and famous!"
Here's a final one. What if you're a DJ at a Hip Hop club, and you're name has become big enough for an employee of a BCM to say to you, "Hey, Man! You're the best I've seen! I'm a program director for 66.6 FM, and if you sign right here I can make you rich and famous!"
Now in all of these scenarios, the employee of the BCM would also offer a dollar amount you may never see in your lifetime. You may then say to yourself, "Yes, this is it! It's the moment I've been waiting for! Finally someone has acknowledged my skills!" Well here's where the measurement question comes in to play, "Just how deep do you love and respect the Hip Hop culture in the first place?"
If you sign the BCM contract, and/or service agreement, within five minutes of the offer, then I say onto you that you have no love whatsoever for the Hip Hop culture. Meaning, to you the culture would just be a simple pawn; a mere stepping-stone, it's a comic's punch line. Now on the other hand, the longer you hold out signing a BCM contract, and/or service agreement, the depth of the love and respect you do have for the Hip Hop culture will be evident.
You see, in my strongest belief, everyone that is involved in the elements of the Hip Hop culture has a voice of passion. That voice is what gives all of us purpose. You speak to the world through your artwork. It is what we all should be treasuring the most in Hip Hop. Part of the point of what I'm saying is this, in my opinion, signing a BCM contract is equivalent to signing up for the military. Once you sign on that dotted line, congratulations, you've made it. You have now become their product; your voice now belongs to them!
Yeah, I know what you're thinking. What if the employer offers me cash in advance? Well ladies and gentlemen, be very aware of this maneuver. Like my man Danger S always calls it, it's the old dangling of the carrot trick. The cash in advance is a BCM term of a loan. It is not free money. I repeat, not free money! Nothing, and I mean absolutely nothing, from a BCM comes free! One way or another you will end up paying back that loan with interest. Oh, by the way, the word loan will not be uttered from the BCM's choice of vocabulary.
So if you're that Graff Writer, they're gonna tell you what to paint, how to paint it, and what colors to use. If you're that emcee, rap artist, or rapper; they're gonna tell you what to rap, when to rap, and what beat you're gonna rap to. If you're that B-Boy crew, they're gonna tell y'all where to dance, when to dance, and what type of music y'all gonna dance to. If you're that DJ, they're gonna tell you what songs to play, how to play it, and how many times to play it.
In my opinion, the greatest example of this would be the most memorable products of the BCM. The first victim went by the name of Vanilla Ice. The same could be said for another victim that went by the name of MC Hammer. Looking back at them now in Hip Hop's history, I see them as victims of the BCM through their own volunteering. They chose to chase the dangling carrot and became novelty sideshows.
The BCM's exploitation tactics weakens the Hip Hop culture without fail, but they need all of us to help them do it!
I mean once a upon a time the Hip Hop community was becoming a powerful social union, and once the culture began to make sick money on its own, the BCM must've said to themselves, "we can't let this keep happening!" So what does one do if an employee from a BCM steps to them? What does one say to the dollar amount that they have never seen before? Well, I am damn sure not gonna tell you to say to them, "Hell no, step off!"
If you truly believe your voice is highly important to you, then the one thing you must do is to find the courage to obtain the ability to negotiate. This particular act is what I call, the Integrity Protection Plan, your voice of passion during the process. Not just for you alone, but for the Hip Hop culture altogether. See to it that your voice is a major part of the contract, and/or service agreement, and that your voice is never compromised in the fine print. Always keep in mind of the measurement question; "just how deep do you love and respect the Hip Hop culture?"
Search carefully for an entertainment lawyer you can trust, if you do not feel comfortable about negotiating on your own. I know that they're hard as hell to find, but they do exist. Let him, or her, know first and foremost how important your voice is to you. Every now and then ask yourself; "does money measure the depth of my love and respect for the Hip Hop culture?"
On the contrary, what if we were to flip the script for a bit? What if we asked, "does money measure the depth of the love and respect an employee has for his or her employer, the Bloodsucking Corporate Machine?"